Natural Solutions for Your Littles!
By: Deanna Snyder, RN Monday February 6, 2023 comments Tags: #BeWellEssentials, #DeannaSnyder, #dōTERRA , #essentialoils, #essentialoilsforchildren, #DilutionForKids

Natural solutions for your health and wellness are a passion of mine. As we know, most of the dis-ease in our bodies comes from our lifestyle and daily habits. Turning to natural solutions empower us to live our best lives. I get asked all the time, can I use essential oils on my children? The simple answer is YES! As with anything, there are some guidelines to follow as our children are smaller and have more sensitive skin than adults.
Rules of Using Essential Oils with Children
Always supervise children during essential oil usage.

Always give children small doses of essential oils than you would give adults.

Dilute essential oils before using them with children to reduce the risk of sensitivity.

Avoid any sensitive areas during essential oil application.

Beware of sunlight exposure after topically applying citrus oils.

Consult with a healthcare professional before allowing children to take adult supplements.

Always store essential oils in a safe place that is out of reach of children.

Educate yourself as a parent, reading labels and manufacturer recommendations.

Talk with your children's physician before using essential oils, particularly if any health concerns exist.

Trust your intuition as you know what is best for your children.
Dilution Guide:
Single Use from Bottle
Babies Under 1 year old: 1-2 drops of essential oil to 1 tablespoon of carrier oil
Child: 1-2 drops of essential oil to 1 teaspoon of carrier oil
12+ years old: 1-2 drops essential oil to 3 drops carrier oil
Make Your Own RollerBall
Convenience is key when applying essential oils. I love placing essential oils in a 5 or 10 mL RollerBall for quick and easy usage.
10 mL RollerBall
0 - 12 months: Add 1 to 6 drops of an essential and fill the rest with Fractionated Coconut oil.
1 - 5 years: Add 6 to 15 drops of an essential and fill the rest with Fractionated Coconut oil.
6 - 11 years: Add 15 - 30 drops of an essential and fill the rest with Fractionated Coconut oil.
12+ years: Add 15 - 40 drops of an essential and fill the rest with Fractionated Coconut oil.
Elderly: Add 6 - 15 drops of an essential and fill the rest with Fractionated Coconut oil.
Many people 12 years and older find that filling a 10 mL rollerball ⅓ full with essential oils and filling the remainder with a carrier oil works well.
It is always advisable to use several small doses throughout the day rather than a single large dose. Start with the lowest possible (1-2 drops) and skin patch for sensitive. Each person is unique and doses will vary based on size, age, and overall health status.
Ready Made Solutions!
Let's face it, some of us are not DIY-ers. dōTERRA has created the Kids Oil Collection. It is a unique collection of essential oil blends that are formulated with the little ones in mind. It's a complete and ready-made "whole body" essential oil toolbox designed to empower caregivers to confidentially care for the health and wellness of little ones. Formulated specifically for developing minds, bodies, and emotions, these essential oil blends feature unique combinations balanced to provide powerful benefits while being gentle on the skin. This kit comes with seven unique 10 mL roll-ons (Thinker ™, Calmer ™, Stronger ™, Tamer ™, Rescuer ™, Steady ™, and Brave ™) seven silicone toppers with carabiners, instructional flashcards for your kids to learn about essential oils and a convenient carrying case. I love this collection and use it myself with awesome outcomes!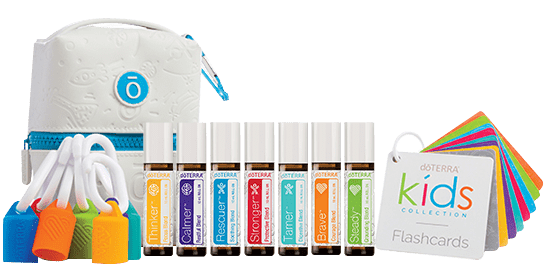 This blog post scratches the surface of how to effectively use essential oils with your children. I invite you to download this eBook that dōTERRA has created, Essential Oils and Children by clicking here.

I invite you to hop on over to my Insta and/or Facebook pages this month. I'm sharing tips on how you can use essential oils for the little ones in your life! Tips on how to properly dilute for topical use. Oils, blends, and products you can use on your children. Emotional support for kids. My most requested roller and diffuser recipes to support all aspects of your lives!
I'd be happy to connect with you and discover what is the best plan for you and your precious little ones!
Until the next time,
Be Well, Deanna
Peace. Love. Oils.
Categories
Archives
Subscribe